Overview
Conducted by the SHOM, the french RONIM (Réseau d'Observation du Niveau de la Mer) project aims at setting up and maintaining a modern tide gauge network in the standard ports of France and its overseas territories. The objectives are to provide a large panel of french sea level measurements to meet the needs of the navigation safety, the prevention and risk management, the research in oceanography and climatology, weather and operational oceanography.
The first RONIM tide gauge installed in 1992 was equipped with an acoustic sensor. The first radar tide gauge was deployed in 1998. Each tide gauge is installed in cooperation with a local partner, generally the port authority or the installation site (Major maritime ports, local authorities, CCI, DDTM etc.). The deployment of 44 tide gauges was completed at the end of 2013.
The RONIM project contributes to the GLOSS (Global Sea Level Observing System) program of IOC (Intergovernmental Oceanographic Commission of UNESCO), and to the french PREVIMER project of coastal operational oceanography. Through the RONIM project, SHOM scientists are implied to EUROGOOS meetings (NOOs, IBIROOS and MOON) and to ICG (Intergovernmental Coordination Group) action groups for tsunami alerts in the Indian Ocean, the North-East Atlantic, the Carribean and the Mediterranean Seas.
CORIOLIS CONTRIBUTION
With the CORIOLIS partners, SHOM ensures to set up and maintain the french tide gauge network.
Since 2010, data are made available to users in near real time and time-delayed mode. The official data diffusion to the scientists is ensure by the SHOM, through the REFMAR (for high-frequency data) and SONEL (for raw and validated mean levels) websites.
>> see REFMAR and SONEL portals
MORE INFORMATIONS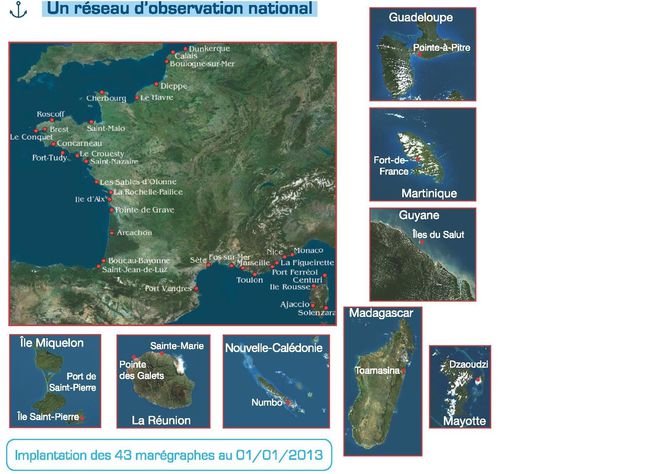 Figure : the french RONIM network for sea level measurements in France
and its overseas territories © SHOM-january 2013