To achieve its goals, CORIOLIS is organised in 3 components :
• Data acquisition at Sea led by N Lebreton (SHOM)
• Coriolis data Centre led by T. Carval (IFREMER).
• Research & Development led by G. Reverdin (CNRS).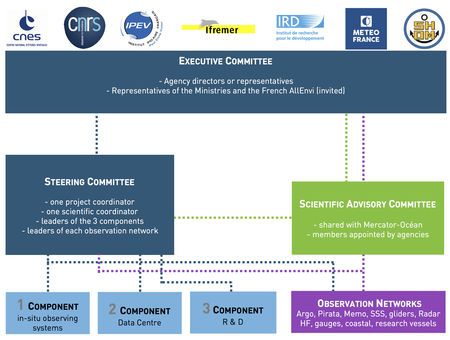 A steering committee manage the operations scientifically and technically , in relation with an executive committee and a scientific advisory board. Leaders of the 3 components and one leader per each observation network drive this steering committee alongside the CORIOLIS coordinator and the scientific CORIOLIS coordinator.
| | | |
| --- | --- | --- |
| Executive Committee | PY Le Traon | IFREMER |
| CORIOLIS Coordinator | S. Pouliquen | IFREMER |
| CORIOLIS Scientific Coordinator | G.Reverdin | CNRS |
| Scientific Advisory Committee | B. Barnier | LEGI |
| | N. Lebreton | SHOM |
| | T. Carval | IFREMER |
| | G. Reverdin | CNRS |
| | | |
| | G. Mazé | IFREMER |
| | B. Bourlès | IRD |
| | T. Delcroix | LEGOS |
| | P. Blouch | Météo-France |
| | C. Guinet | CEBC/CNRS |
| | P. Testor | LOCEAN/CNRS |
| | V. Donato | SHOM |
| | G. Charria | IFREMER |