Coriolis is involved in the Argo Data Management activities at different level within the ARgo Data Management network.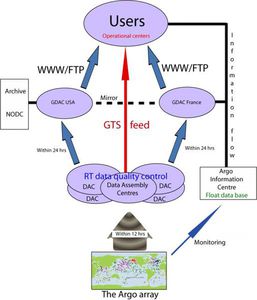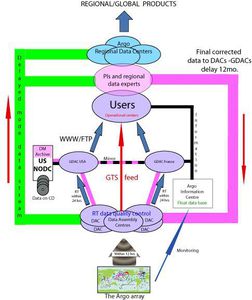 Coriolis operates one of the two GDAC (Global DAta Center) for Argo that provide access to the whole official Argo dataset. Profiles from eleven national Argo data centres are received, format and mandatory metadata are verified according to Argo agreements and data are made available on the Argo FTP site. Daily synchronisation with US Gdac is performed. Weekly temperature and salinity analysis. It's also consolidating the reference CDT database for ARgo in collaboration with CCHDO, US-NODC and Argo Arcs. FTP GDAC site
It acts as a DAC and processes float data deployed by France, float data and in addition data from different European (Germany, Spain, Netherlands, Norway, Italy) and non European countries (Chili, Costa Rica, Mexico). New floats are added into the system as they are deployed. Within Argo data management organization,
For real-time data processing, An automatic real-time processing system has been developed and is operational. The raw (hexadecimal) data are received by email from the telecommunication provider (CLS ARGOS) and then automatically decoded, quality controlled according to the Argo agreed suite of automatic quality control tests (adding quality flags to the data as necessary), and sent to the GTS and the Argo GDACs. The French Argo Data Centre web-site is automatically updated. The automatic real-time system generates the float WMO TESAC messages. The TESAC messages, containing only the data flagged as good, are automatically emailed to Météo-France where they are then disseminated on the GTS via Toulouse node. Every day, an objective analysis is produced from the Argo dataset for the past 30 days and the residual are scanned automatically to detect profiles that are not coherent with their neighbours. These profiles are put aside and checked by an operator. All the validated data are sent in netcdf format to the two GDACs, generally within 24 hours of receipt.
For Delayed-mode data processing, it's carried out by Coriolis team in collaboration with the scientific teams from CNRS, IRD and Ifremer who have been involved in the float deployment in their area of expertise.
Finally it coordinates the ARC (Argo Regional Center ) for the North Atlantic Ocean . France has taken the lead in establishing the NA-ARC, which is a collaborative effort between Germany (IFM-HH, BSH), Spain (IEO), Italy (OGS), Netherlands (KNMI), UK (NOCS, UKHO), Ireland (IMR), Norway (IMR), Canada (DFO), and USA (AOML). Work has concentrated on acquiring recent CTD data to improve the reference data set for the North Atlantic Ocean needed for scientific QC of the float data and setting up the delayed mode processing in the different institutes. Work on consistency of the Argo dataset over the basin has started and it's promising and will be finalized within EURO-ARGO. Collaboration with the Southern Ocean and South Atlantic Ocean ARCs is also performed
Finally Coriolis operates one of the two GDAC (Global DAta Center) for Argo that provide access to the whole official Argo dataset. Profiles from eleven national Argo data centres are received, format and mandatory metadata are verified according to Argo agreements and data are made available on the Argo FTP site. Daily synchronisation with US Gdac is performed. Weekly temperature and salinity analysis. It's also consolidating the reference CDT database for ARgo in collaboration with CCHDO, US-NODC and Argo Arcs. FTP GDAC site